Securing resources and energy, as well as a stable electricity supply in emerging and developing countries are keys to the development of industries and the economy.
Our company takes part not only in tangible aspect support such as facility support for generation-transmission-transformation-distribution, which is the core of electrical power infrastructure, but also policies for various fields, such as comprehensive management, maintenance management, energy saving as well as human resources development and takes part in support for both tangible and intangible aspects.
Also, as an intangible support project, we are contributing to the development of human resources in subject countries by taking part in improvement of training facilities and education.

The Project for Establishment of the Combined Cycle Gas Turbine (CCGT)
Operation and Maintenance (O&M) Training Center in Uzbekitan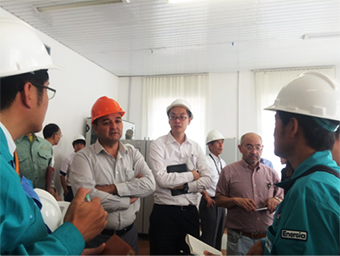 Preparatory Survey on the Project for Improvement of TSG Training Center on Grid System Operations and Maintenance in Pakistan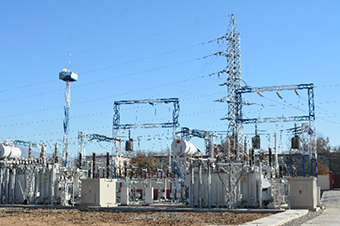 Improvement of Training Capacity on Grid System Operations &Maintenance inPakistan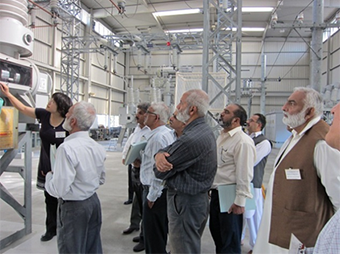 | Country | Project Name (Assigned position) | Duration |
| --- | --- | --- |
| Pakistan | The Preparatory Survey on Transmission System Network Reinforcement Project | Dec. 2015–May 2016 |
| Uzbekistan | The Project for Establishment of the Combined Cycle Gas Turbine (CCGT) Operation and Maintenance Training Center | Sep. 2015–Oct. 2017 |
| Pakistan | Data Collection Survey on Energy Efficiency and Conservation in the Building Sector | May 2015–Feb. 2016 |
| Pakistan | Energy Conservation and Efficiency Promotion | May 2015–Feb. 2016 |
| Iran | Detailed Planning Survey on A Master Plan for Developing Environmental Friendly Technologies in Iranian Power Sector | May 2015–Feb. 2016 |
| Pakistan | Preparatory Survey on the Project for Improvement of TSG Training Center on Grid System Operations and Maintenance | Jan. 2015-Feb. 2016 |
| Uzbekistan | Detailed Planning Survey on the Project for Establishment of the Combined Cycle Gas Turbine (CCGT) Operation and Maintenance Training Center | Nov. 2014–Dec. 2015 |
| Worldwide | Project Research for the Development of Diagnostic Support Tool for the Power Sector | Feb. 2014–Feb. 2016 |
| Pakistan | Data Collection Survey on Power Sector Reform | Sep. 2013–Oct. 2013 |
| Pakistan | Improvement of Training Capacity on Grid System Operations &Maintenance | Jun. 2012–Dec. 2014 |